For Immediate Release
October 2018
Contact: Michele Clark
NAPCO Security Technologies, Inc.
333 Bayview Avenue
Amityville, NY 11701
1-800-645-9445 x477
mclark@napcosecurity.com
New! iBridge Touch® Touchscreen Proves the 'Magic Touch' for Growing Dealers' New IoT Business Services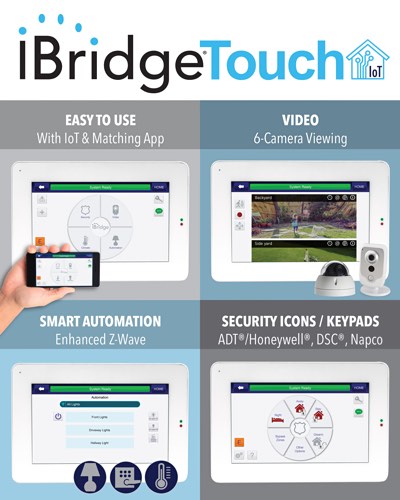 Amityville, NY – NAPCO Security Technologies, known for developing innovative technology and reliable security solutions and services, is pleased to share that the all-new décor-neutral, iBridge Touch® Touchscreen is gaining new popularity, especially used in conjunction with its new matching iBridge App, recently debuted on iTunes and Google Play. iBridge Touch is an advanced, neutral-color, décor-friendly, wall-mounted touchscreen that controls security and/or video and smart automation (IoT services). Available in hardwire or wireless models, this slim-profile, high-res 7" full color touchscreen (#IBR-TOUCH & -WL, respectively) is ultra-responsive with a high-speed, quad-core processor, matching the iBridge Smart App for mobile services. iBridge Touch has an intuitive graphical icon-based user interface, helpful built-in voice prompts, onscreen MMS/SMS notifications, and offers easy one-touch security for arm, disarm, stay & away, plus a conventional keypad mode with multi-brand compatibility option.
In fact, iBridge Touch is ideally-teamed with the universal StarLink Connect® LTE Dual Path Cell/IP Connected Hub Communicator (-Z model). When integrated together for smart home/business accounts, the StarLink Connect provides connectivity for Z-wave IoT control of standard Z-wave locks, lights, t-stats & small appliances, and onscreen Video, multi-viewing of up to 6 iBridge Video®  WAP-free hi-res cameras, including new doorbell, or original iSee Video Cameras. Additionally, when used with StarLink Connect, the universal communicator provides the iBridge Touch touchscreen with a conventional virtual keypad mode that mirrors top panel brand keypads, ADT®/Honeywell®, DSC® & Napco, including providing dealers with full keypad programming capability. Other new dealer advantages include easy update command, a Configuration Wizard, and super easy WiFi network-connect.
Ask for the new iBridge Touch at your distributor, also available are free Sales Materials in full presentation or trifold/mailer format (XXXXX). For more contact Napco at 1.800.645.9445; email salesinfo@napcosecurity.com, or ask your local NAPCO sales representative. Or try it yourself at ISC East this November, at NAPCO booth 207.
About NAPCO Security Technologies, Inc.
NAPCO Security Technologies, Inc. (NASDAQ: NSSC) is one of the world's leading manufacturers of technologically advanced electronic security equipment including intrusion and fire alarm systems, access control and door locking systems. The Company consists of NAPCO plus three wholly-owned subsidiaries: Alarm Lock, Continental Access, and Marks USA. The products are installed by security professionals worldwide in commercial, industrial, institutional, residential and government applications. NAPCO products have earned a reputation for technical excellence, reliability and innovation, poising the Company for growth in the rapidly expanding electronic security market, a multi-billion dollar market.