For Immediate Release
March 10, 2020
NAPCO Security Technologies, Inc.
333 Bayview Avenue
Amityville, NY 11701
1-800-645-9445 x477
mclark@napcosecurity.com
Now Available! iSecure® All-Inclusive Cellular Alarm Systems by Napco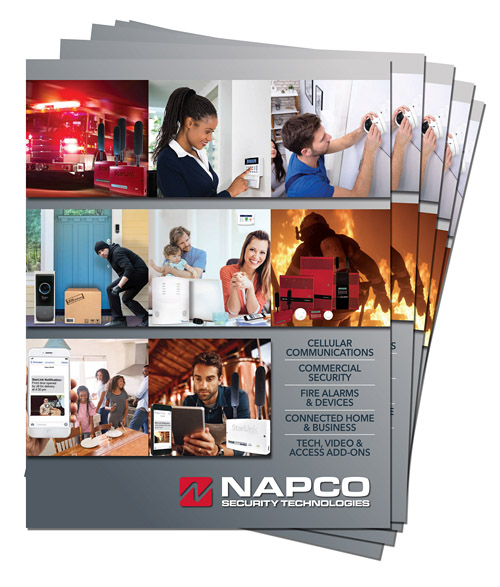 Amityville, NY – Napco Security Technologies is pleased to announce the availability of its award-winning iSecure® Complete Cellular Alarm Systems, now at distributors nationwide. iSecure is designed to help security pros to be more competitive, adding more residential accounts and new RMR, while offering the professional-grade security systems, remote Smart App & notification alerts consumers want. For speediest setup, iSecure is uniquely installable in about an hour, and programmable using any smart phone/tablet and a cloud-based portal with easy drop-down menus. (No laptop required!)
iSecure is available in 3 all-inclusive kits, starting from $79.95net (with StarLink-incentive), with choice of wireless keypad, security touchscreen or connected home touchscreen, and includes two wireless window/door sensors and wireless PIR. iSecure guarantees the lowest equipment cost and professional installation in under an hour and features a Go-Anywhere™ Smart Hub with built-in StarLink Cellular/IP LTE dual path alarm reporting that literally goes anywhere, wall-mount or tabletop, allowing dealers to position it for best signal reception and less vulnerability to smashing; plus spoken voice prompts, 85db siren, RF-receiver & 24hr standby for max. power-outage-protection. A full line of professional accessories are also available including wireless CO, smoke, heat detectors, video cameras & doorbell, extra plug-in siren with strobe and the iSecure Takeover Module, eliminates rewiring or replacing installed sensors, and more. Free customizable consumer marketing materials & mailers are also available.
Ask for iSecure Complete Cellular Alarm Systems today at your local distributor, or for more info. contact your local Sales Representative or Napco Customer Service or at 1-800-645-9445, or visit iSecure's all new website www.isecurealarms.com. For free local training classes please also consult our training schedule www.napcosecurity.com/seminars.
About NAPCO Security Technologies, Inc.
NAPCO Security Technologies, Inc. (NASDAQ: NSSC) is one of the world's leading manufacturers of technologically advanced electronic security equipment including intrusion and fire alarm systems, access control and door locking systems. The Company consists of NAPCO plus three wholly-owned subsidiaries: Alarm Lock, Continental Access, and Marks USA. The products are installed by security professionals worldwide in commercial, industrial, institutional, residential and government applications. NAPCO products have earned a reputation for technical excellence, reliability and innovation, poising the Company for growth in the rapidly expanding electronic security market, a multi-billion dollar market.