For Immediate Release
July 2019
NAPCO Security Technologies, Inc.
333 Bayview Avenue
Amityville, NY 11701
1-800-645-9445 x477
mclark@napcosecurity.com
Cost-Saving Continental Access® uniVerse™ POE Single-Door Controller, Now Available in Surface Mount Version ­– Ideal for Schools & Healthcare Facilities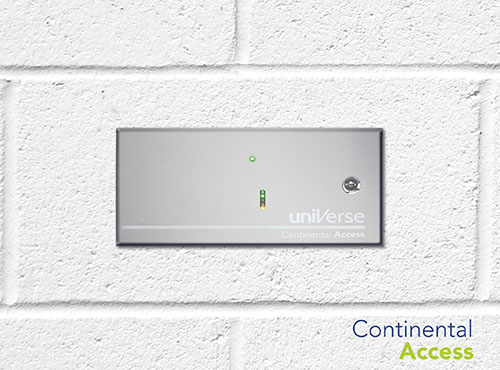 Continental Access, a division of Napco Security Technologies Inc., is pleased to announce its uniVerse™ Series Single-Door Controllers, featuring "EZ-learn networking", are now available in a surface-mount version, model CICP2100S. Ideal for cinder block walls and other hard-to-wire surfaces, often found in the construction of schools, healthcare facilities & other institutions, and used in a CA4K enterprise access control software environment, the CICP2100S Power Over Ethernet Controller, with locking metal enclosure, supports two ID readers and/or one low current strike via power over Ethernet (POE).
Up to 14 uniVerse controllers can be networked together or intermixed with Continental's conventional, 2-16 door SuperTwo™ or Accelaterm™ Controllers, and/or integrated with Trilogy® Networx™ Wireless PIN/Prox Access Control Locks. Compact but value-packed, uniVerse Series supports 200K cards, features a Superfast 54MHz RISC Processor, 4MB on-board memory, a 1000 transaction buffer (expandable to 10,000), 256 time schedules, 30,000 access groups and 5 x100 holidays. The cost-saving, Series also includes 2 Form C Relay outputs, for door and aux. (MOV-protected) and supports AES-encrypted, IT-friendly POE or RS485, to downstream 10 controllers on 1 network drop. Mounted on the secured side of the door, CICP2100S's 22-gauge CRS steel locking enclosure (9.18W x 5.4H x 2.1D") includes 5 diagnostic ethernet LEDs, plus a power indicator, viewable from the closed cabinet. Like all its products, uniVerse controllers, in surface mount or original double-gang box model (CICP1200), are backed by Continental's 3-year factory warranty.
For more information on Continental Access, the easy-to-use and easy-to-afford, CA4K security management platform, and the CICP2100 Series uniVerse™ Single-Door POE Controllers, contact your local sales rep, ask for spec sheet A760, or visit Continental online at www.cicaccess.com
About NAPCO Security Technologies, Inc.
NAPCO Security Technologies, Inc. (NASDAQ: NSSC) is one of the world's leading manufacturers of technologically advanced electronic security equipment including intrusion and fire alarm systems, access control and door locking systems. The Company consists of NAPCO plus three wholly-owned subsidiaries: Alarm Lock, Continental Access, and Marks USA. The products are installed by security professionals worldwide in commercial, industrial, institutional, residential and government applications. NAPCO products have earned a reputation for technical excellence, reliability and innovation, poising the Company for growth in the rapidly expanding electronic security market, a multi-billion dollar market.