For Immediate Release
January 2017
Contact: Michele Clark
NAPCO Security Technologies, Inc.
333 Bayview Avenue
Amityville, NY 11701
1-800-645-9445 x477
mclark@napcosecurity.com
Alarm Lock Expands Trilogy® T2 Series to include Mortise, LocDown & Exit Trim Standalone Keyless Access Models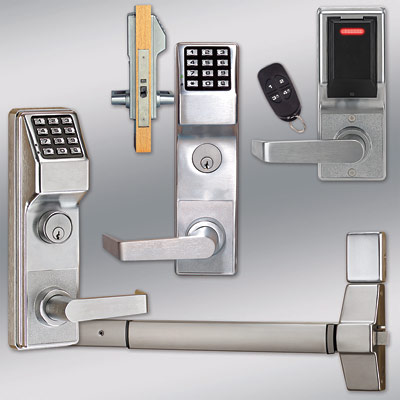 For Immediate Release, Amityville, NY – Alarm Lock, a division of NAPCO Security Technologies, has expanded their Trilogy® T2 Series, the number one selling electronic standalone access locks in their class. Field-proven standalone Trilogy® T2 electronic keyless access locks provide BHMA Grade-1 durability with a rugged clutch and vandal-proof all metal keypad and long-life battery operation. They are 100% fingertip programmable, providing easy installation in less than an hour and support standard and IC core prep cylinders. Trilogy® T2 Series locks allow more codes (up to 100 codes and 3 service codes + 1 master); multi-level user capability (master, manager & user service codes); individual, group or total user lockout codes; passage mode; and 2-wire remote override or key bypass capability. Weatherproof models are available for exterior use – 31 to 151˚F (-35 to 66˚C).
The Trilogy T2 series now include the popular DL2700 standalone digital cylindrical lock, the leading access control lock in its class year after year; new DL2700LD cylindrical lock with lockdown, ideal for schools and campus security with remote keyfob and bright visual lockdown indicator bar on inner door; narrow stile Locks for glass doors; new mortise locks for high security mortise locking with choice of classroom or deadbolt functions; and new Trilogy T2 Series Exit trim, adding keyless access pushbutton convenience to any panic exit bar.
For more information on Trilogy visit http://www.alarmlock.com, contact your Alarm Lock sales or customer service representative at 1-800-645-9445.
About NAPCO Security Technologies, Inc.
NAPCO Security Technologies, Inc. (NASDAQ: NSSC) is one of the world's leading manufacturers of technologically advanced electronic security equipment including intrusion and fire alarm systems, access control and door locking systems. The Company consists of NAPCO plus three wholly-owned subsidiaries: Alarm Lock, Continental Access, and Marks USA. The products are installed by security professionals worldwide in commercial, industrial, institutional, residential and government applications. NAPCO products have earned a reputation for technical excellence, reliability and innovation, poising the Company for growth in the rapidly expanding electronic security market, a multi-billion dollar market.