May 01, 2017
Contact: Michele Clark
NAPCO Security Technologies, Inc.
333 Bayview Avenue
Amityville, NY 11701
1-800-645-9445 x477
mclark@napcosecurity.com
StarLink Connect® Connected Home Communicators Take 3 Top Industry Awards within a Month of Their Debut
Amityville, NY – NAPCO Security Technologies is excited to announce that, within a month of its debut, the StarLink Connect® Universal Connected Home Cell/IP Communicator Series has won three top industry awards. It is a one and done secure solution for alarm dealers looking to upgrade and/or takeover the millions of existing alarm systems out there, Honeywell®, ADT®, DSC® or Napco. Starting at just $29.95net with "Free For All" promo. incentive, this affordable multifunction 4- or 5-in-one product, with dual path communicator, adds smart Connected Home service to virtually any alarm system out there, and at a fraction of the cost of others such as Alarm.com®. Plus, because StarLink Connect is cell-based it typically requires no internet connection at the premises, offers secure, cyber-protected Verizon Network Certified® dual cellular/IP communications, a full virtual keypad App, and smart text and/or video alert notifications. Also ideal for dealers' operations, StarLink Connect offers full universal up/downloading support of Napco, Honeywell® and DSC® Panels, including full bus-based support –unofficially, some dealers even report doing full keypad programming through StarLink Connect's virtual keypad app, as it so precisely duplicates the physical models of these top brands.
Most recently, StarLink Connect has been awarded a 2017 ESX Innovation Award, by the ESA, in the "Intrusion Systems" category, for its third top-industry award within a month after its debut. The Innovation Awards recognize outstanding products and services that drive the electronic security and life safety industry forward. At the product's market debut at ISC West 2017, Las Vegas, StarLink Connect® Communicators, including the Z- Model with Built-in Connected Home Services Hub, won two prestigious awards, taking both the SIA New Product Showcase "Best in Residential and Monitoring Solutions" Award and the "MVP" (Most Valuable Product) Annual 2017 Award in the home controls category from 'Security Sales & Integration'.
StarLink's Free for All incentive is applicable to all StarLink models, and new and old installations, and provides $100 USD savings on any of these already well-priced universal communicators, available in the US and now also in Canada on the AT&T®network.
StarLink Connect is available at the distributor near you today, featured in Napco Trainings online and in the field, and in a brand new video preview on YouTube of at https://youtu.be/_UDmZebYkEY. For more on StarLink Communications Solutions, or full details on new "Free For All" program, visit www.napcosecurity.com/starlink, or see NAPCO at ESX, Booth 401.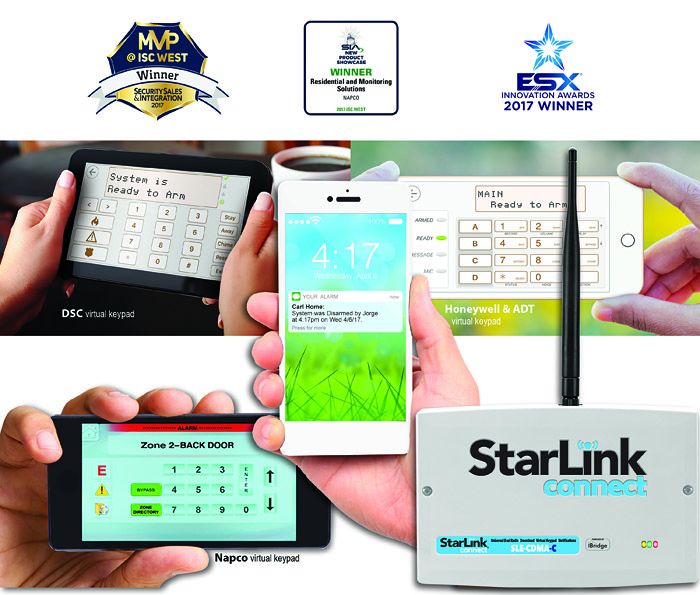 About NAPCO Security Technologies, Inc.
NAPCO Security Technologies, Inc. (NASDAQ: NSSC) is one of the world's leading manufacturers of technologically advanced electronic security equipment including intrusion and fire alarm systems, access control and door locking systems. The Company consists of NAPCO plus three wholly-owned subsidiaries: Alarm Lock, Continental Access, and Marks USA. The products are installed by security professionals worldwide in commercial, industrial, institutional, residential and government applications. NAPCO products have earned a reputation for technical excellence, reliability and innovation, poising the Company for growth in the rapidly expanding electronic security market, a multi-billion dollar market.