For Immediate Release
August 2019
Contact: Michele Clark
NAPCO Security Technologies, Inc.
333 Bayview Avenue
Amityville, NY 11701
1-800-645-9445 x477
mclark@napcosecurity.com
New! StarLink AT&T LTE Universal Cell Communicators Now Available for All Applications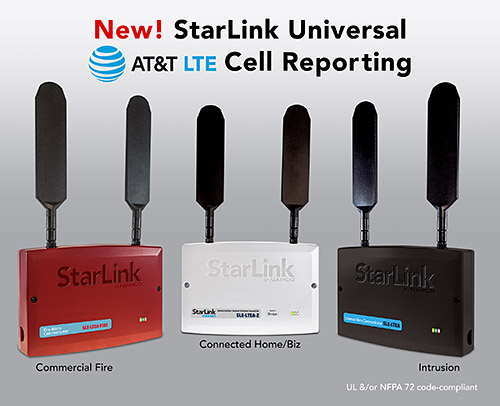 Amityville, NY – By popular demand, NAPCO Security Technologies, known for innovative technology and reliable professional security solutions, is expanding its award-winning line of StarLink® Universal Cellular Communicators with new models on the AT&T LTE network, so important in various areas of the country. The much-anticipated StarLink LTE AT&T Cell and Cell/IP Communicator models include StarLink Fire® Commercial Fire Communicators, plus StarLink Intrusion Cellular & StarLink Connect® Cell/IP/Hubs, with universal support for alarm reporting for all panel brands and to dealers' choice of central stations.
Universal StarLink™ LTE Intrusion Alarm Communicators support any brand alarm panel or 12V/24V FACP reporting in Contact ID and 4/2, and offer fast installation in minutes. Preactivated to ensure communications before going to the job site, they also use Panel Powered Technology™, so they don't require extra power supplies or extra installation time either. StarLink LTE's unique Signal Boost™ & Dual Diversity Twin Antennae outperform others, maximizing signal acquisition & null-avoidance, receiving signals on both antennae. And, with StarLink's unrivalled "Free For All Program™", dealers can trade-up existing accounts, takeovers or new installations, from POTs or old networks, any old radios, or even new construction for Free or $100 off any StarLink model. Plus, Napco offers free customizable self-mailers/statement stuffers for burg, fire or connected home or business, to help dealers explain and market their cellular and connected services.
Available today at a distributor near you, on choice of AT&T LTE or Verizon LTE nationwide networks; ask for StarLink Intrusion, StarLink Fire or StarLink Connect. For more on StarLink Cellular Communications Solutions and for the "Free For All" 4-step rebate form, visit www.StarLinkLTE.com, or call Napco at 1.800.645.9445.
About NAPCO Security Technologies, Inc.
NAPCO Security Technologies, Inc. (NASDAQ: NSSC) is one of the world's leading manufacturers of technologically advanced electronic security equipment including intrusion and fire alarm systems, access control and door locking systems. The Company consists of NAPCO plus three wholly-owned subsidiaries: Alarm Lock, Continental Access, and Marks USA. The products are installed by security professionals worldwide in commercial, industrial, institutional, residential and government applications. NAPCO products have earned a reputation for technical excellence, reliability and innovation, poising the Company for growth in the rapidly expanding electronic security market, a multi-billion dollar market.