For Immediate Release
March 2020
NAPCO Security Technologies, Inc.
333 Bayview Avenue
Amityville, NY 11701
1-800-645-9445 x477
mclark@napcosecurity.com
New Marks USA 2020 Custom Architectural Locking Catalog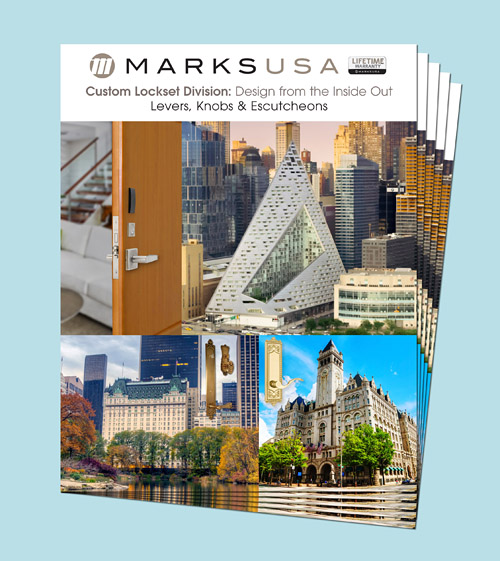 Amityville, NY – Marks USA, a division of NAPCO Security Technologies, renowned for its architectural-grade hardware, locking and access lock lines, announces the release of their new 2020 Custom Lockset Catalog. The new catalog includes over 250 Marks USA custom levers, knobs & escutcheons, standard and custom design decorative locksets. Also featured are ArchiTech® Designer Series Networx® Locksets, customizable with over 300 trims and finishes, with Bluetooth LE and iLock App support. Marks Custom Locks featured, have been used in a variety of high-profile worldwide projects , i.e., The Plaza Hotel and Condominiums, New York, The Trump International Hotel, Washington D.C., VIA 57 West, New York (also known as The Pyramid Building due to its iconic shape), and the Lucida and Georgica Buildings, as well.
Marks USA manufactures mortise, cylindrical and tubular locks in an infinite customizable collection of designs, styles, looks, and functions, many of which can be "tried on" at their www.designalock.com interactive website, where designers and architects can design, spec and share their own custom lock vision, in various settings, inside and out, in mortise & cylindrical locks, and including matching interior locks. Ready for any requirement, Marks' custom trim may include engraving, conventional and high-security keying systems, electronic access control are all offered for commercial, residential and industrial projects. Marks USA products are long-lived and backed by the industry's only Lifetime Mechanical Warranty.
Marks 2020 Custom Lockset Catalog is available to download at www.marksusa.com or contact our friendly Marks customer service at 1-800-645-9445; specify Catalog no. A768.
About NAPCO Security Technologies, Inc.
NAPCO Security Technologies, Inc. (NASDAQ: NSSC) is one of the world's leading manufacturers of technologically advanced electronic security equipment including intrusion and fire alarm systems, access control and door locking systems. The Company consists of NAPCO plus three wholly-owned subsidiaries: Alarm Lock, Continental Access, and Marks USA. The products are installed by security professionals worldwide in commercial, industrial, institutional, residential and government applications. NAPCO products have earned a reputation for technical excellence, reliability and innovation, poising the Company for growth in the rapidly expanding electronic security market, a multi-billion dollar market.