For Immediate Release
January 2020
NAPCO Security Technologies, Inc.
333 Bayview Avenue
Amityville, NY 11701
1-800-645-9445 x477
mclark@napcosecurity.com
Now Available! Continental CA4K® Access Manager App, Puts a Virtual Enterprise Workstation in the Pocket of Any Security Manager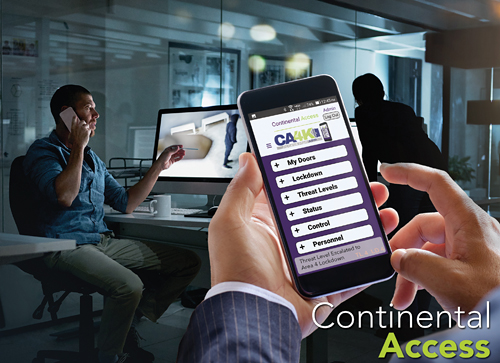 Amityville, NY – The Continental Access Division of NAPCO, is pleased to announce the debut of its new CA4K Access Manager App, now available on iTunes® and Google Play®, for use with any smart device.
Now available as a downloadable resource online, and in print, the all-new Napco Catalog features comprehensive content on our newest labor-saving, advanced technologies, on the growing Napco product lines, plus quick dealer insights and/or shared best practice tips, excerpted from actual Napco Dealer feedback. For easy product selection, several new model-by-model matrices, Pak configuration comparisons & System-Builder tools are also featured.
The new CA4K Access Manager App adds another level of convenient intuitive mobile control to Continental Access' flagship CA4K Enterprise Integrated Access Control Software (v1.1 or higher),which also supports push notifications (or emails) in the event of an emergency, threat level escalation or lockdown events (shown). The App acts as a Virtual Enterprise Workstation in every Security Manager's pocket, on any smart device, and provides easy effective management of threat levels, lockdown, status and personnel; also controlling all doors (1-32,000), wireless PIN/Prox locks, elevators & entryways, including their global or APB-area(s) lock down. The CA4K App itself also enables logged access via a customizable list of approved entry-points without a physical credential –Ideal for schools, universities, hospitals, commercial- and multi-tenant residential buildings. Unlike competitors, Continental's CA4K App boasts universal access functionality, i.e., it can be used to access any lock or reader (brand) on the CA4K Enterprise Access Control System.
Likewise, Continental Integrators can use the single CA4K Access Manager App and simply shake their smartphone, to swap between multiple clients' hosted or remotely-managed systems. This is latest tool Continental introduced to empower its integrators, in addition to its turnkey dealer program to help generate RMR-producing cloud-based access & managed services.
Continental Access, a division of NAPCO Security Technologies, Inc. is a respected security innovator and pioneer in integrated access and security solutions. Known for its enterprise security & access Control management platform, with low TCO, scalable for a few to thousands of doors, CA4K, Continental also offers its own high-performance, long-lived hardware, including field-upgradable conventional, POE and wireless controllers. For more info. contact Continental 1.800.645.9445, go online www.cicaccess.com or visit us this March, ISC West Las Vegas, Napco Booth 12043.
About NAPCO Security Technologies, Inc.
NAPCO Security Technologies, Inc. (NASDAQ: NSSC) is one of the world's leading manufacturers of technologically advanced electronic security equipment including intrusion and fire alarm systems, access control and door locking systems. The Company consists of NAPCO plus three wholly-owned subsidiaries: Alarm Lock, Continental Access, and Marks USA. The products are installed by security professionals worldwide in commercial, industrial, institutional, residential and government applications. NAPCO products have earned a reputation for technical excellence, reliability and innovation, poising the Company for growth in the rapidly expanding electronic security market, a multi-billion dollar market.