For Immediate Release
October 2021
NAPCO Security Technologies, Inc.
333 Bayview Avenue
Amityville, NY 11701
1-800-645-9445 x477
mclark@napcosecurity.com
Alarm Lock "Number Ones Trilogy® T2 Access Control Lock Contest" Winner, David Nolan, Receives Grand Prize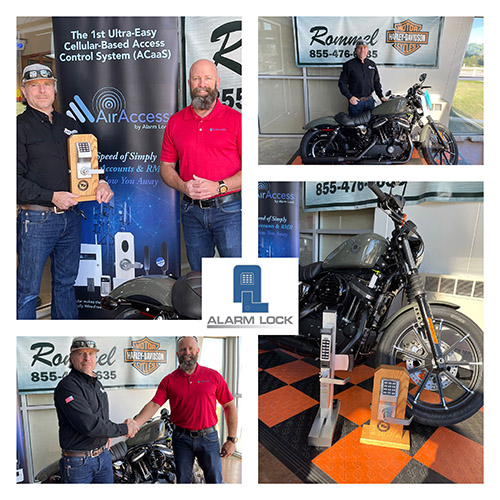 Amityville, NY – Alarm Lock, a Division of NAPCO Security Technologies, recently awarded Mr. David Nolan of R.J. Lock & Security, the winning prize from its popular Number Ones Trilogy® T2 Contest. Named to play-off the popularity of Alarm Lock's #1 Pushbutton Access Locks in their class & the Harley-Davidson® Motorcycle #1 status in theirs, the contest ran thru June. David was chosen out of all the locking professionals that registered each purchase of a T2 Series DL2700/DL2800 Trilogy lock from a participating distributor nationwide.
On October 19th, Peter Lowenstein, Alarm Lock VP of Sales, presented David with his new Harley-Davidson® Sportster® motorcycle at his local Rommel Harley-Davidson in Smyrna, DE. David said, "We've been using Alarm Lock Trilogy locks at R.J. Lock & Security for 25 years. I was shocked when I received the call that I won the contest. I've been a bike enthusiast all my life. In fact, I just recently sold my bike, so this was a wonderful surprise! They (Alarm Lock Trilogys) are the only locks that stand up to the brutal conditions of the east coast beaches."
With models available for every application and door, inside and out, Alarm Lock Trilogy® Series Wireless PIN/Prox Locks are field-proven and provide BHMA Grade-1 durability with a rugged clutch and vandal-proof all metal keypad and long-life battery operation. They are 100% fingertip programmable, providing easy installation in less than an hour and support standard and IC core prep cylinders. For more information on Trilogy Access Control Locks visit https://alarmlock.com, contact your Alarm Lock sales or customer service representative at 1-800-645-9445 or visit ISC East booth 903 in NYC this November.
About NAPCO Security Technologies, Inc.
NAPCO Security Technologies, Inc. (NASDAQ: NSSC) is one of the world's leading manufacturers of technologically advanced electronic security equipment including intrusion and fire alarm systems, access control and door locking systems. The Company consists of NAPCO plus three wholly-owned subsidiaries: Alarm Lock, Continental Access, and Marks USA. The products are installed by security professionals worldwide in commercial, industrial, institutional, residential and government applications. NAPCO products have earned a reputation for technical excellence, reliability and innovation, poising the Company for growth in the rapidly expanding electronic security market, a multi-billion dollar market.