For Immediate Release
December 2020
NAPCO Security Technologies, Inc.
333 Bayview Avenue
Amityville, NY 11701
1-800-645-9445 x477
mclark@napcosecurity.com
Continental Access Introduces E-Access Embedded Platform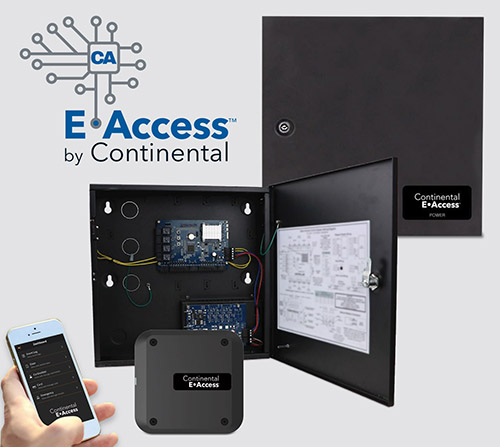 Amityville, NY – Continental Access, a division of NAPCO Security Technologies and respected security innovator and pioneer in integrated access and security solutions for government, institutions and business, is excited to announce the debut of the all-new E-Access platform. E-Access is a new easy-to-use platform of 1 to 4-Door Self-Contained Controllers with embedded software. It offers hybrid access control in a cloud-based system, with the advantages of an on-premise access system. E-Access is available in 1-Door, 2-Door and 4-Door controller models, fully scalable 8 doors expandable to 256.
E-Access is a self-contained system, so there is no software to load and it's ready out of the box. It features secure cloud-based remote management and/or mobile app management. A set-up wizard guides users through an easy and fast set-up of user and system configuration, auto-populating of holidays, the integrated flat file import tool, and bulk load of users & credentials. The E-Access embedded platform allows for use with any popular browser, including Chrome, Safari and IE.
Feature-packed at a value-leading price, E-Access features no-touch Bluetooth® mobile credentials and automated credential issuance; Quad Core Cortex, 1.5 GHz, 64-bit processing with a gigabit ethernet, each panel retains a copy of database for redundancy; UL294 Series 7th Ed. Listed; and includes a 5-year hardware warranty.
For more information on Continental Access new E-Access platform, please contact your regional Continental Sales Manager, visit www.cicaccess.com or call customer service at 1.800.645.9445.
About NAPCO Security Technologies, Inc.
NAPCO Security Technologies, Inc. (NASDAQ: NSSC) is one of the world's leading manufacturers of technologically advanced electronic security equipment including intrusion and fire alarm systems, access control and door locking systems. The Company consists of NAPCO plus three wholly-owned subsidiaries: Alarm Lock, Continental Access, and Marks USA. The products are installed by security professionals worldwide in commercial, industrial, institutional, residential and government applications. NAPCO products have earned a reputation for technical excellence, reliability and innovation, poising the Company for growth in the rapidly expanding electronic security market, a multi-billion dollar market.