For Immediate Release
October 2021
NAPCO Security Technologies, Inc.
333 Bayview Avenue
Amityville, NY 11701
1-800-645-9445 x477
mclark@napcosecurity.com
Free! Alarm Lock Locking & Database Management Software Now Conveniently Available to Download from Website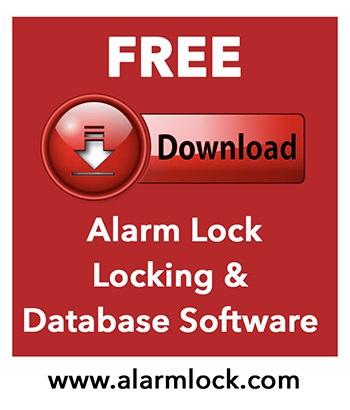 Amityville, NY – Alarm Lock, a Division of NAPCO Security Technologies, is pleased to announce that its popular DL-WINDOWS Management software is now conveniently available for download on the Alarm Lock website, on all lock pages. DL-Windows is the free Alarm Lock Trilogy Microsoft Windows®-based software application that allows for easier and faster programming and access control management with Alarm Lock Trilogy® locks. Quickly create Accounts and Lock Profiles, add multiple Users, add prox cards &/or keyfob proximity credentials, retrieve event logs, and create Schedules. With DL-Windows, easily set up all lock programming in advance from any computer, then send the programming information to the locks at your convenience. To download, just go to any product page on www.alarmlock.com and look for the red download button on the right-hand sidebar. This digital delivery method will also replace physical, packed shipments of Alarm Lock software, to be discontinued in the coming months, in an effort to improve accessibility & convenience for security pros, as well as improve upon the Company's ecological footprint.
The software provides easy management of Alarm Lock's class-leading, Trilogy line of keyless electronic access control locks-- enabling security professionals and facility managers to control access to buildings of all kinds, more cost-effectively, dependably and quickly than ever, adding and removing users, and their PIN- or Prox-ID card-based wireless access control a door at a time. Trilogy Networx™ wireless networking access locks, keypads and exit trim feature global-programming and functionality. They can be locked down or unlocked in seconds, from any lock, server or keyfob, and eliminate door-to-door manpower, operations and queries by communicating wirelessly via ethernet or 802.11, and Networx Gateways & Expanders.
For real-time management, Networx Locks can use Company's own new AirAccess® Cloud-Based platform with easy, automatic cellular-based networking; as well as with enterprise security management systems, using top platforms such as, Continental Access® CA4K, Lenel® OnGuard® Open Access Integration, Software House®.
All Trilogys feature the same low-maintenance, rugged dependability, years of unsurpassed long battery life and most also meet or exceed industry's toughest Grade 1 BHMA standards and use Alarm Lock's Free DL-Windows software. To download DL-Windows or for more on Alarm Lock, visit www.alarmlock.com or call 1-800-ALA-LOCK.
About NAPCO Security Technologies, Inc.
NAPCO Security Technologies, Inc. (NASDAQ: NSSC) is one of the world's leading manufacturers of technologically advanced electronic security equipment including intrusion and fire alarm systems, access control and door locking systems. The Company consists of NAPCO plus three wholly-owned subsidiaries: Alarm Lock, Continental Access, and Marks USA. The products are installed by security professionals worldwide in commercial, industrial, institutional, residential and government applications. NAPCO products have earned a reputation for technical excellence, reliability and innovation, poising the Company for growth in the rapidly expanding electronic security market, a multi-billion dollar market.