For Immediate Release
December 2020
NAPCO Security Technologies, Inc.
333 Bayview Avenue
Amityville, NY 11701
1-800-645-9445 x477
mclark@napcosecurity.com
LifeSaver Life-Safety Locks Ensure a Lifetime of Patient Safety for Your Facility or Institution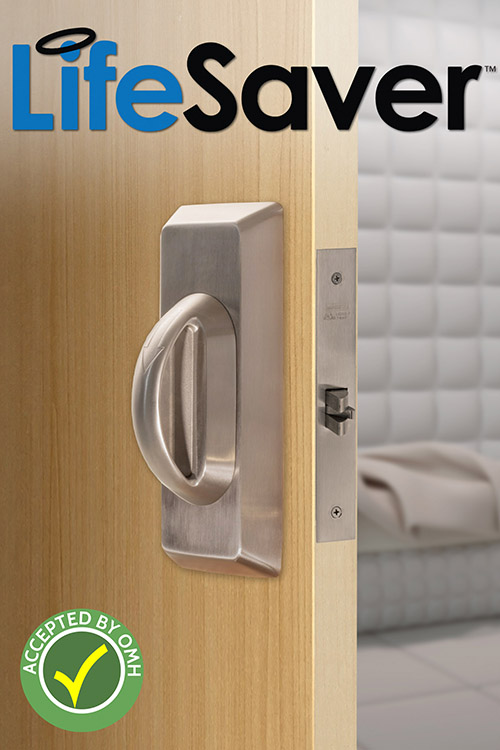 Amityville, NY – Marks USA, a division of NAPCO Security Technologies, is pleased to announce that its new anti-ligature slide models are gaining popularity. New to the LifeSaver series, the 5-Point Ligature-Resistant Slide Behavioral Health Models are Grade 1 anti-ligature locksets, available in cylindrical and mortise. The solid stainless steel handle slides down freely in the locked or unlocked position and is tamper-proof through-bolted for durability & easy-installation. They meet the latest BHMA 156.34 Anti-Ligature trim standard, accepted by OMH, NYS Office of Mental Health Patient Safety Standard and are JHACO approved. They are also available with GermAway™ anti-microbial finish, a built-in germ barrier & special antimicrobial finish that inhibits microbial growth of dangerous microorganisms, mold, mildew and fungi.
Used by leading institutions nationwide, LifeSaver Series of anti-ligature locksets, by Marks USA, meet or exceed today's patient safety standards for managed liability, accident prevention and security in behavioral & health care institutions and correctional facilities. With products that meet or exceed top BHMA® Grade 1 standards for durability, Marks products are known for longevity, and are uniquely backed by the Marks exclusive Lifetime Mechanical Warranty.
For more information on Marks USA LifeSaver Series call 1.800.645.9445, email info@marksusa.com, or visit Marks online at www.marksusa.com.
About NAPCO Security Technologies, Inc.
NAPCO Security Technologies, Inc. (NASDAQ: NSSC) is one of the world's leading manufacturers of technologically advanced electronic security equipment including intrusion and fire alarm systems, access control and door locking systems. The Company consists of NAPCO plus three wholly-owned subsidiaries: Alarm Lock, Continental Access, and Marks USA. The products are installed by security professionals worldwide in commercial, industrial, institutional, residential and government applications. NAPCO products have earned a reputation for technical excellence, reliability and innovation, poising the Company for growth in the rapidly expanding electronic security market, a multi-billion dollar market.