For Immediate Release
January 2020
NAPCO Security Technologies, Inc.
333 Bayview Avenue
Amityville, NY 11701
1-800-645-9445 x477
mclark@napcosecurity.com
New Napco Professional Security Solutions Catalog Available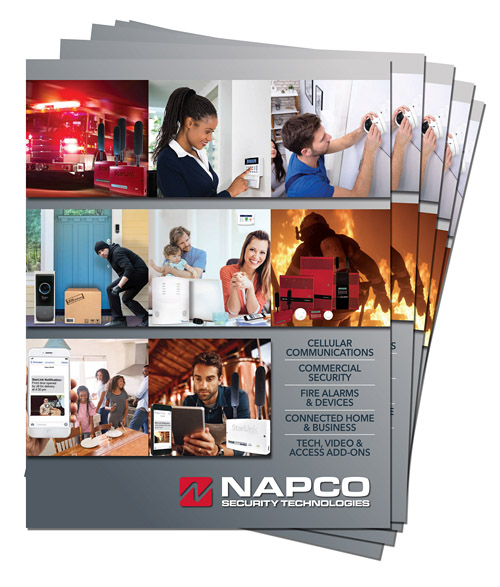 Amityville, NY – Napco Security Systems is pleased to introduce a brand new version of its Full Line Catalog of Professional Security Solutions, including the latest on its award-winning StarLink® Cellular Communications of AT&T and Verizon LTE networks, Gemini® & GEMC-Series® Residential & Commercial Systems, Firewolf® & FireLink Fire Alarms & Devices, iBridge® & iSecure® Connected Security Systems and new Tech, Video & Access Control Add-ons.
Now available as a downloadable resource online, and in print, the all-new Napco Catalog features comprehensive content on our newest labor-saving, advanced technologies, on the growing Napco product lines, plus quick dealer insights and/or shared best practice tips, excerpted from actual Napco Dealer feedback. For easy product selection, several new model-by-model matrices, Pak configuration comparisons & System-Builder tools are also featured.
The Napco Catalog can be downloaded online from the Napco Website's Marketing Library Resource, or Tech Support Docs section &/or can be requested from any Napco Regional Salesperson, Distributor or friendly Napco Customer Service at 1.800.645.9445 (part no. A402N). Napco will also be distributing Catalogs at the upcoming ISC West Expo in Las Vegas, 3/18-3/20/20 at Booth 12043. NAPCO Security Technologies, Inc. has a long heritage proudly dedicated to developing innovative technology and reliable security solutions for security and locking professionals.
About NAPCO Security Technologies, Inc.
NAPCO Security Technologies, Inc. (NASDAQ: NSSC) is one of the world's leading manufacturers of technologically advanced electronic security equipment including intrusion and fire alarm systems, access control and door locking systems. The Company consists of NAPCO plus three wholly-owned subsidiaries: Alarm Lock, Continental Access, and Marks USA. The products are installed by security professionals worldwide in commercial, industrial, institutional, residential and government applications. NAPCO products have earned a reputation for technical excellence, reliability and innovation, poising the Company for growth in the rapidly expanding electronic security market, a multi-billion dollar market.