For Immediate Release
March 2015
NAPCO Security Technologies, Inc.
333 Bayview Avenue
Amityville, NY 11701
1-800-645-9445 x477
mclark@napcosecurity.com
Now Available, New NAPCO Gemini Wireless Commercial Carbon Monoxide Detector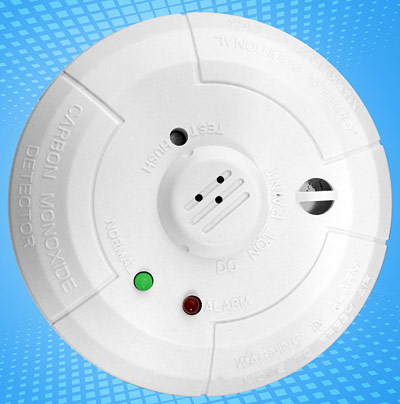 NAPCO Security Technologies is pleased to introduce the new Wireless Gemini Commercial Carbon Monoxide Detector, model GEMC-WL-CO. This high-quality carbon monoxide (CO) detector has a built-in supervised, digitally coded wireless transmitter, and visual and audible alarm and low battery indicators. Designed for detection accuracy and reliability, it's part of both the Gemini and Gemini Commercial Grade wireless lines, and supported by NAPCO's GEM-RECV and Commercial GEMC-RECV Series Supervised Receivers as part of GEMINI, GEMC & Firewolf Alarm Systems. The GEMC-WL-CO is a compact, white detector, with 5-3/8 diameter and 2" profile, uses a 3V Lithium Battery (CR123A) for long dependable product life, and is backed by NAPCO's three year warranty. It monitors alarms, restores, low battery, tamper and status, and is designed to meet or exceed today's rigorous life safety compliances, including testing to sensitivity limits specified in UL 2075, UL 2034. GEMC-WL-CO Wireless Carbon Monoxide Detector comes complete with battery, ceiling or wall mounting plate and hardware.
For more information on GEMC-WL-CO Wireless Detectors and any of the other NAPCO Gemini Wireless and/or UL Commercial Grade Wireless lines, please ask at your distributor, visit us online www.napcosecurity.com or contact NAPCO Customer Service or your local Representative at 1.800.645.9445.
About NAPCO Security Technologies, Inc.
NAPCO Security Technologies, Inc. (NASDAQ: NSSC) is one of the world's leading manufacturers of technologically advanced electronic security equipment including intrusion and fire alarm systems, access control and door locking systems. The Company consists of NAPCO plus three wholly-owned subsidiaries: Alarm Lock, Continental Access, and Marks USA. The products are installed by security professionals worldwide in commercial, industrial, institutional, residential and government applications. NAPCO products have earned a reputation for technical excellence, reliability and innovation, poising the Company for growth in the rapidly expanding electronic security market, a multi-billion dollar market.