For Immediate Release
January 2017
Contact: Michele Clark
NAPCO Security Technologies, Inc.
333 Bayview Avenue
Amityville, NY 11701
1-800-645-9445 x477
mclark@napcosecurity.com
Continental Access Releases All-New CA4K® Enterprise Security Management Platform Software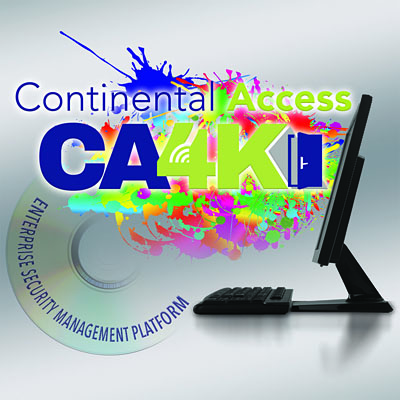 Amityville, NY – Continental Access has recently released their new CA4K Enterprise Security Software integrating access control, locking, alarms, video & remote hosted services. Continental Access, a division of NAPCO, is a respected security innovator and pioneer in integrated access and security solutions for government, institutions and business. Known for its enterprise class CardAccess® systems, Continental provides its own optimized, long-lived hardware and software. Leading edge features include Mobile Access Support, NFC and Bluetooth LE; remote web interface, remote control & oversight of system.
Ultra-scalable from two to thousands of doors, CA4k has a fresh all-new look & UI with intuitive icons, trees, multi-view windows and more. New features include infinite advanced integration options, i.e. VMS, intercom, biometrics badging and building management; a comprehensive web client built in (full access- create, assign, control all); distributed & local database management that's helpful in day-to-day tasks and crises; and Mobile Access Support, NFC and Bluetooth LE, and integrated School Safety Lockdown/Notification App.
For more information on ContinentalAccess and CA4K Enterprise Access Control & Security Systems, call 1.800.645.9445, email salesinfo@cicaccess.com, or online at www.cicaccess.com.
About NAPCO Security Technologies, Inc.
NAPCO Security Technologies, Inc. (NASDAQ: NSSC) is one of the world's leading manufacturers of technologically advanced electronic security equipment including intrusion and fire alarm systems, access control and door locking systems. The Company consists of NAPCO plus three wholly-owned subsidiaries: Alarm Lock, Continental Access, and Marks USA. The products are installed by security professionals worldwide in commercial, industrial, institutional, residential and government applications. NAPCO products have earned a reputation for technical excellence, reliability and innovation, poising the Company for growth in the rapidly expanding electronic security market, a multi-billion dollar market.