For Immediate Release
May 2018
Contact: Michele Clark
NAPCO Security Technologies, Inc.
333 Bayview Avenue
Amityville, NY 11701
1-800-645-9445 x477
mclark@napcosecurity.com
New Continental Access Enterprise Consumer Brochure for Integrators Featuring CA4K Enterprise Security Management Systems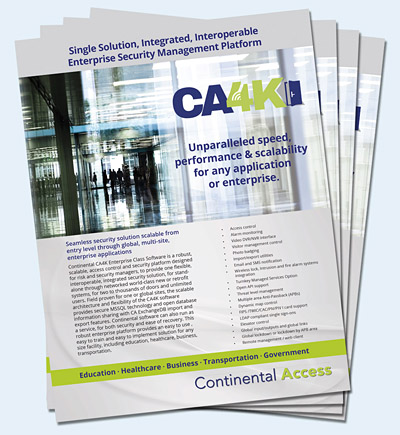 Amityville, NY – Continental Access, a division of NAPCO and respected security innovator and pioneer in integrated access and security solutions for government, institutions and business, is excited to announce the release of the new Continental Enterprise End user Brochure for integrators to use marketing the Company's advanced integrated systems. The new brochure is an ideal all-inclusive sales tool, featuring Continental's CA4K Enterprise Integrated Security & Access System Management Software, as well as the full line of Continental hardware, from wireless locks and the uniVerse™ POE controller, to conventional controllers for 2 to 16 doors. To request the free brochures, integrators/dealers can call Continental Customer Service at 1-800-645-9445 and ask for part number A460E, or download it online https://goo.gl/ugTD6V from our new mobile-friendly website.
Known for its enterprise class security management platforms, Continental provides its own optimized, long-lived hardware and software with leading edge features including Mobile Access Support, NFC and Bluetooth LE; remote web interface, remote control & oversight of system. CA4K Enterprise Security & Access Management Platform integrates access control, wireless locking, alarms, video & remote hosted services. It is super easy to install, program & use, and is flexible, versatile and scalable. It features an open API, the uniVerse™ POE controller, simultaneous multi-credential support, comprehensive web client for secure control from anywhere and the lowest total cost of operation. CA4K now supports Windows Server 2016 and SQL Server 2014, Avigilon DVR Integration, OTIS Elevator Integration, Multiple Host Communication Servers and Multiple Wireless Lock Servers.
For more information on Continental Access and CA4K Enterprise Security & Access Management Platform, or to request the new Enterprise End User Brochure, call 1.800.645.9445, or visit Continental online at www.cicaccess.com.
About NAPCO Security Technologies, Inc.
NAPCO Security Technologies, Inc. (NASDAQ: NSSC) is one of the world's leading manufacturers of technologically advanced electronic security equipment including intrusion and fire alarm systems, access control and door locking systems. The Company consists of NAPCO plus three wholly-owned subsidiaries: Alarm Lock, Continental Access, and Marks USA. The products are installed by security professionals worldwide in commercial, industrial, institutional, residential and government applications. NAPCO products have earned a reputation for technical excellence, reliability and innovation, poising the Company for growth in the rapidly expanding electronic security market, a multi-billion dollar market.