For Immediate Release
June 13, 2018
Contact: Michele Clark
NAPCO Security Technologies, Inc.
333 Bayview Avenue
Amityville, NY 11701
1-800-645-9445 x477
mclark@napcosecurity.com
New ArchiTech® LocDown™ N90L Wireless Networked Access Locks for School Lockdown Security with Strobe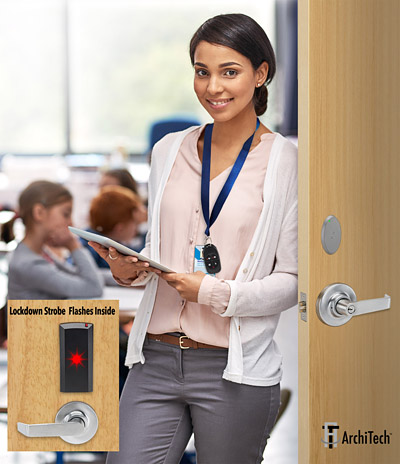 Amityville, NY – The Alarm Lock Division of Napco Security Technologies, Inc. is pleased to introduce a new, easily deployed, keyless school security measure for controlling access to classrooms, or any doors, in an emergency, with its ArchiTech® Wireless Access Locks with remote keyfob-activated lockdown, securing one lock or a global lock group, in seconds, at the first hint of trouble. Once lockdown is activated, a bright red strobe light is illuminated on the inner door to give occupants, i.e., sheltering in place, greater peace of mind that the door is securely locked down.
Easily, quickly retrofitting any standard door lock, the décor-friendly, minimalist ArchiTech cylindrical locks with customizable choice of lever-handle, multi-technology ID reader shape and finish, provide keyless access for up to 5000 users, plus 500 auto lock/unlock event schedule and nearly 40K time-/date-stamped/user log of activity. ArchiTech can be used to retrofit any door, metal, wood, etc., since the lockdown electronics are surface-mounted. Because they're made by Alarm Lock, the maker of Trilogy Locks, the #1 in their class for years running, ArchiTech's are field-proven to be reliable, low-maintenance, and provide years of battery life from standard AA batteries with patented Battery Saver modes. Also the tiny LocDown Keyfobs can control many locks, and many staffers can control each (with varying lock/unlock privileges, as desired).
ArchiTech Networx LocDown N90L Series Wireless Access Control Locks are easily, securely networked spanning a few doors or campus-wide, via 802.11 or Ethernet, and Gateways (controlling up to 63 locks each for hardware savings). Locks can be programmed and log-queried with free Alarm Lock Software, or in real-time applications, using optional Enterprise Software Platforms, from integration partners: Continental Access CA4K®, Lenel OpenAccess Alliance® (OnGuard®) & Connected Partner® for Software House®.
For more on ArchiTech LocDown N90L Series specifications or any of Alarm Lock's School Security Solutions, or the SAVI School Access Control Vulnerability Index self-evaluation system, please contact us at 1-800-ALA-LOCK, visit www.alarmlock.com or ask any Alarm Lock Representative.
About Alarm Lock Systems
Alarm Lock, a division of NAPCO, is a leader in access and egress solutions for education, healthcare, government, retail, airports & industry. Known for field-proven standalone Trilogy electronic keyless access locks, networked Trilogy Networx™ locks, customizable ArchiTech Designer Networx Series, featuring Bluetooth LE Technology and iLock App.